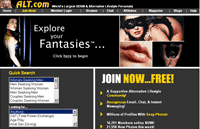 Alternative Lifestyle is the largest internet BDSM/fetish personals destination with millions of active members.

Alternative Lifestyle was one of the first adult sites built for the alternative lifestyle community. That's because the BDSM/fetish crowd was not about quick sex, but about the lifestyle, about community building, about expressing yourself, about exploring the kinky edges of sexuality - in a safe and friendly environment.

Alternative Lifestyle was founded on the understanding that being kinky is not something to hide, and that if you're kinky, you're not alone - there are millions of people out there just like you.

Right now Alternative Lifestyle goes out in 4 languages and has members in almost every country, so their members can extend their search for kindred kinky souls over the entire planet.
---